CELEBRATING ALUMNI VOLUNTEERISM
Excellence at Marquette doesn't just happen. We achieve it through the hard work and dedication of many people, including alumni in places all over the world.
Through this special edition of our alumni newsletter, we thank, honor and showcase Marquette's amazing alumni who play a key role in the university's success. Some of you are mentors; many participate in service projects; others give to student scholarships or participate in regional alumni club activities.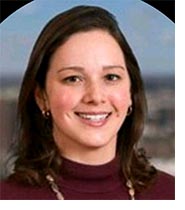 The list of all the ways alumni give back is far too long to include here, but I encourage you to visit the alumni website and check out the fun and exciting opportunities to support our alma mater.
We are grateful for you – WE ARE MARQUETTE!
Amy Zimmerman, Bus Ad '10
President
Marquette University Alumni Association National Board of Directors
EXCELLENCE

MU Club of New York and New Jersey welcomes new grads to the alumni family at annual Boat Basin networking program
On July 17, the MU Club of New York and New Jersey hosted its annual Boat Basin Networking Happy Hour/MU Mixer to welcome new graduates and summer interns from the Finance in New York program. MU Mixers are new for summer 2018; clubs across the country scheduled Mixer events to give the Class of 2018 a warm welcome home and an introduction to their local alumni club. Additionally, two local alumni, John Barrett, Bus Ad '85, and Laurel Imig Britton, Arts '94, hosted the student interns at gatherings over the summer. Follow the MU Club of New York and New Jersey on Facebook, Twitter and Linkedin.
Alumna Kelly hosts deans, Marquette friends in Atlanta for special Porsche event

Paula Campbell Kelly, Arts '85, corporate secretary, Porsche Financial Services, Inc., hosted a dinner in Atlanta in November with Dr. Kristina Ropella, Eng '85, Opus dean, Opus College of Engineering; and Dr. Brian D. Till, James H. Keyes dean of Business Administration, College of Business Administration. Marquette alumni and friends in attendance heard updates about both colleges and got to enjoy the thrill of joining a Porsche driving coach for a demonstration lap! Learn more about the Opus College of Engineering and the College of Business Administration and about how to get involved in your college-based alumni chapters.



San Diego-area alumni enjoy a festival of their own making

The MU Club of San Diego created a "fest" of their own: SeptemberFEST, which will hold its third annual event on Sept. 29. Hosted at the home of Cindy Guzzo, Jour '71, SeptemberFEST brings together Marquette alumni and friends for beer and wine tastings, live music and great food and company. Register online today to attend SeptemberFEST, join the club for its MU Mixer on Aug. 18 and follow the MU Club of San Diego on Facebook.




Chicagoland connects at Breakfast Club

Held regularly throughout the year, the MU Club of Chicago Breakfast Club program offers an opportunity for Marquette alumni, parents and friends to connect with one another both personally and professionally before their workday begins. Recent hosts include Beth Warmuth Ryan, Arts '08, and Steve Ryan, Arts '08 (RyTech, LLC); Adam McCostlin, Bus Ad '06 (Cushman & Wakefield); Maura Farrell, Arts '92, (Kivvit); and Peter Hoskow, Arts '99 (CCS Fundraising). Find out more about Chicagoland programs -- or volunteer to host one of your own -- on the MU Club of Chicago webpage, and plan to join the club for its MU Mixer event on Aug. 28 and the next Breakfast Club event on Sept. 13.
Explore this year's Alumni National Award recipients and nominate someone you know for a future award

Each spring, Marquette sets aside one special weekend to honor distinguished alumni from every college and school who represent the heart, soul and spirit of the university. Discover the stories behind the 50 awardees who were honored at the April 2018 ceremonies, including alumni of the year Karen Kane Swoboda, Eng '90, and Charles M. Swoboda, Eng '89, and nominate someone you know for a future award.
faith

August reflection: To give and to not count the cost

By Rev. Frederick Zagone, S.J., Chaplain, Marquette University Alumni Association
The above phrase from St. Ignatius' Prayer for Generosity reminds us of the tradition we have of helping one another. The Bible frequently praises the virtuous nature of helping those in need which is the essence of volunteering. According to scripture, it is right to give our time and/or money when we have acquired success in life and are able to do so. We read in the first Letter of St. Peter, "Each of you should use whatever gift you have received to serve others, as faithful stewards of God's grace in its various forms." 1 Peter 4:10.
There is a group of people whose efforts make not only the everyday life of Marquette a reality but guarantee the future of Marquette and our Catholic and Jesuit education for years to come: Our volunteers!
Volunteers may contribute monetary gifts, but we also look to those who contribute their time and talent to Marquette. Our local alumni clubs, interest-based alumni groups and College based groups work throughout the year. They plan and sponsor events. They host gatherings in their homes and places of business. They support Marquette with their energy and enthusiasm. We thank God for their efforts and ask God to continue blessing them and their contributions to Marquette.
We ask God to send blessings on Marquette that future generations will have the opportunities we have had; the education we've received; the recognition of God's presence that we share.
We ask God to bless us as our new academic year begins. We are Marquette! Amen.




Marquette alum Poirier forges 'A Path to Peace' through interreligious forum

Members of the Catholic, Jewish and Muslim faiths came together on Marquette's campus in May for an interreligious forum featuring presentations and a panel with prominent speakers of each faith. The gathering and dialogue was inspired by Rich Poirier, Grad '86, president and CEO of Church Mutual Insurance Company, whose foundation, CM CARES™, co-sponsored the event with the Helen Way Klingler College of Arts and Sciences. "My personal commitment toward this noble goal was grounded in the Jesuit education I received at Marquette University, and the fact that all are welcome under Marquette's big tent," said Poirier. Thank you to Rich, whose philanthropic support and work on behalf of Marquette truly embodies leadership by example.


New Jersey alumni host Marquette's Center for Peacemaking director to discuss how to be bridge-builders in our world

New Jersey-area alumni and spouses on May 8 welcomed Patrick Kennelly, director of the Marquette University Center for Peacemaking, for an engaging panel entitled "Forward Marquette: Celebrating Our Jesuit Values – How Can We Be Bridge-builders in Our World?" Hosted by Peter O'Hagan, Bus Ad '77, and Judy O'Hagan, Arts '77; Bill Oliver and Monica Oliver, Sp '81; Henry Kwan, Arts '71; and Bob Wright, Sp '77, Law '80, and Geralyn Wright; the program brought together alumni and friends to discuss how to apply Jesuit teachings to build bridges with those who have differing points of view. Learn more about the Center for Peacemaking, which celebrates its 10th anniversary in 2018-19, and follow the MU Club of New York and New Jersey on Facebook, Twitter and Linkedin.
leadership

AMUW celebrates 80 years with debut of alumnae-created memory book
The Association of Marquette University Women celebrated their 80th year as an alumnae club on June 6. All past AMUW board members were invited to experience an impressive panel discussion, reconnect with friends and hear about what AMUW is doing today. The night was completed with the release of a new AMUW history book documenting the last 80 years. Thank you to Kathy Cavalco, Eng '86, and Kathy Kavemeier, Med Tech '65, for their impressive work compiling content and photos to create a beautiful resource for generations to come. Learn more about AMUW's work and programs, register today to join AMUW for the book club event on Sept. 12, and download a PDF of the AMUW's "Celebrating 80 Years" history book.

Sheila and Perry Veith celebrate their Marquette ties as alumni, parents and business owners
When Sheila Veith, Arts '80, and Perry Veith, Bus Ad '79, transitioned from students to alumni of Marquette, their involvement with the university only grew. Now, as Marquette parents, (son Matthew is a current student) Sheila and Perry serve on the Parent and Family Leadership Council and lend their professional expertise to students via the MUAA Mentor Program. Most recently, the Veiths pledged that their Ceres Partners' Hop Head Farms of Michigan will create a LEED-certified "hops wall" at the new Rev. Robert A. Wild., S.J., Commons residence hall.

Reunion + Homecoming planning committees bring alums and families home to Marquette for a fun weekend
Many alumni from each reunion class serve on volunteer committees to help plan, fundraise for class gifts and create a buzz for Reunion + Homecoming, to be held Oct. 4 - 7, 2018. To prepare for their efforts, dozens of volunteers gathered on campus this spring for a full-day reunion volunteer immersion session followed by a Brewers game at Miller Park. See which alumni serve on Reunion + Homecoming class committees and register today for events!


Communication experts from Marquette and Minnesota discuss ethics in the industry
In April, Minnesota alumni visited the set of Twin Cities Live! at the 5 EYEWITNESS NEWS/KSTP-TV building when Tim Vetscher, Comm '98, hosted Diederich College of Communication Dean Kimo Ah Yun and industry experts including Marian Briggs, Jour '75, Tim Cigelski, Comm '04, and Katie Schutrop, Comm '08, to discuss ethics in communication. To get involved with the MU Club of Minnesota, follow the group on Facebook, Twitter and Linkedin.
service

Alumna Curley serves as a reading tutor through Ignatian Volunteer Corps of Milwaukee
Marquette is proud to support the important work of the Ignatian Volunteer Corps – in Milwaukee, Chicago and other key regions around the country. IVC is a faith-based non-profit that was founded in 1995 by two Jesuits who envisioned matching the life experiences and spiritual longings of men and women (ages 50 or older) with established community organizations serving the poor and marginalized.
Anne Curley, Grad '88, serves IVC Milwaukee as a reading tutor at St. Catherine Catholic Grade School, part of the Seton network of urban schools in the Archdiocese of Milwaukee. Anne immediately recognized the urgent need to support the below-grade-level readers at St. Catherine's, so she grew her IVC volunteer role by developing a tutoring corps. She recruited 14 additional tutors, organized training and will oversee scheduling and coordination in the 2018-19 school year. Learn more about IVC and its volunteer outreach presence across the country.

LGBT+ Alumni Council carries out Marquette's service tradition via Hunger Clean-up and St. Vincent de Paul of Milwaukee
As part of Marquette's Hunger Clean-up tradition, on April 28 the LGBT+ Alumni Council raised $1,265 for the cause. Additionally, the group joined the Marquette University Student Government group at St. Vincent de Paul ii Milwaukee, preparing shower kits and assisting with the meal program. Learn more about Hunger Clean-up and the LGBT+ Alumni Council.

MU Club of Northern California works to install solar panels
On April 21, alumni and friends from the MU Club of Northern California worked with nonprofit GRID Alternatives to install a 3.42 kilowatt solar system at the home of a low-income family in the San Jose area, which is slated to save 51 tons of carbon emissions over its lifetime. Special thanks goes to Tom Werner, Eng '86, and Suzanne Werner for sponsoring the materials for the project, as well as GRID Alternatives Vice President of Government Relations and Market Development Stan Greschner, Eng '00; and outgoing MU Club of Northern California President Kate Molitor, Comm '09. Learn more about the MU Club of Northern California and get involved with planning upcoming programs.
upcoming events
August and September: Marquette Mixers
Mix with current alumni and welcome new graduates at your local MU Mixer this summer/fall. Find an MU Mixer event in your area.

Saturday, Sept. 1: MU Club of Northeast Ohio Indians Baseball Outing
Gather with alumni and baseball fans for a pregame gathering at Flannery's and enjoy pay-as-you-go food and beverages. Then head to the Cleveland Indians game. Register today.

Wednesday, Sept. 12: MU Club of Washington, D.C.: Milwaukee Night
Hear about the contributions of Milwaukee to the economic strength and vitality of the nation. Thank legislators, staff members and administrators who help us achieve our goal of making the Milwaukee area a world-class location. Register today.

Friday, Sept. 14: Milwaukee Haggerty Museum of Art - Street Party
Celebrate the Haggerty Museum of Art's uniquely creative role in the Marquette University and Milwaukee communities at this year's "street art" fundraising unGALA. Regiser today.

Tuesday, Sept. 18: Les Aspin Center for Government 30th Anniversary Dinner in Milwaukee
Honoring Rev. Timothy J. O'Brien, Ph.D., founder and director of The Les Aspin Center for Government. Register online.

Wednesday, Sept. 19: Dedication of Wild Commons with Reception and Tours in Milwaukee
Join the Marquette campus community to celebrate the new Rev. Robert A. Wild, S.J., Commons residence hall with a dedication ceremony, reception and tours. Get more information.

Sunday, Sept. 30: Green Bay Packers Tailgate Party
Join Marquette alumni and friends for the 15th annual Green Bay tailgate party in the shadow of Lambeau Field, when the Packers face the Buffalo Bills. Don't miss this annual tradition! Register today.

Oct. 4 - 7: Reunion + Homecoming at Marquette
We've brought together two of our most popular events for one epic celebration - Alumni Reunion Weekend plus Homecoming - and more Marquette. Enjoy great food, music, fun competitions, class reunion celebrations and family-friendly activities. Register today.
GUESS THE YEAR

Students participate in a sleep out during National Hunger and Homelessness Awareness Week.
a. 1997
b. 2000
c. 2003
d. 2007
ANSWER - d. 2007
stay in touch with marquette
Update your contact information on file with the Marquette University Alumni Association
Make sure Marquette has your current name, mailing address and email address so you continue to receive alumni magazines, event invitations, university news and more. Update your contact information.
Follow the Marquette University Alumni Association on social media
Find us on Facebook, Twitter and LinkedIn.