EXCELLENCE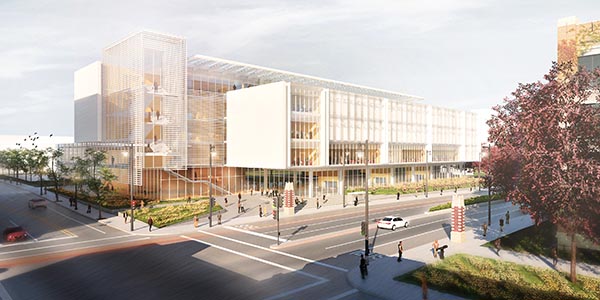 Rendering courtesy of BNIM
Marquette University to build new home for Marquette Business and innovation leadership programs
Plans are underway to build a new home for the College of Business Administration and innovation leadership programs at the corner of 16th Street and Wisconsin Avenue, the former site of McCormick Hall. The plans mark a significant step toward a transformational moment in Marquette's history as a Catholic, Jesuit institution.
"Marquette Business has a long history of developing ethical, Jesuit-educated leaders who live and work in Milwaukee and the top financial hubs across the world," President Lovell said. "Through innovative design features and flexible learning spaces, our newest academic facility will help foster creative thinking for students from all disciplines." See building renderings and learn more about the project.
BONUS:
Read more university highlights from Dr. Lovell's presidential address in January.

30 years of engineering change
Dr. Kristina Ropella became a Marquette faculty member in 1990. As dean, her biggest goal is to change the face of engineering.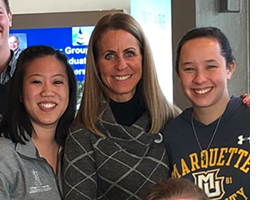 Dr. Kristina Ropella hasn't just been breaking the glass ceiling since she stepped foot in her first engineering class at Marquette University in the early 1980s; in her own words, she's been "tearing down the walls and rebuilding the entire place."
From her days as a student at Marquette, it was apparent Ropella didn't fit the typical mold of an engineer. She was one of few women in her engineering classes, and as she continued in her graduate studies and early career, it was common to see many of her female counterparts leave the industry. Read the full story by Alexis (Lozinak) Schlindwein, Comm '13.
Thousands of alumni and fans across the globe celebrate National Marquette Day
Keep the spirit rolling on Give Marquette Day - Feb. 27

You Rang Out Ahoya! On National Marquette Day, Feb. 9, thousands of alumni and fans gathered to celebrate Marquette's values and cheer on athletic excellence. Alumni volunteer leaders organized more than 50 Marquette Men's Basketball game-watching parties across the globe, while fans in Milwaukee donned blue and gold and packed Fiserv Forum. All told, National Marquette Day weekend saw wins by men's basketball, lacrosse and tennis.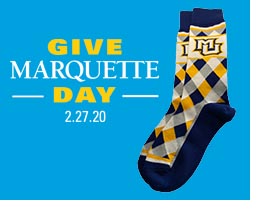 SAVE THE DATE FOR GIVE MARQUETTE DAY
THURSDAY, FEB. 27
Let's keep the Marquette spirit strong as we head into our third annual Give Marquette Day on Thursday, Feb. 27. Give Marquette Day is a 24-hour fundraising event for alumni, parents, students, faculty, staff and friends around the world to join together and make an impact on the university. Help us secure our goal of 2,020 donors by making a gift, or signing up through GiveCampus to become an advocate and help spread the word with #GiveMUDay.

P.S. Make a gift today and be counted toward our Give Marquette Day goal, plus get these exclusive socks!

FAITH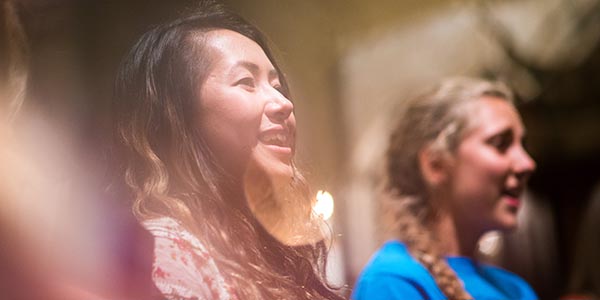 By Rev. Frederick Zagone, chaplain of the Marquette University Alumni Association

In the Lenten preface to the Eucharistic Prayer at Mass, we hear the words:
For by your gracious gift each year your faithful await the sacred paschal feasts with the joy of minds made pure, so that more eagerly intent on prayer and on the works of charity, and participating in the mysteries by which they have been reborn, they may be led to the fullness of grace that you bestow on your sons and daughters.
The words remind us of the beauty of Lent as a season of preparation when we are called to ready ourselves for Easter by taking action. The Lenten disciplines of prayer, fasting, and almsgiving, which we will hear about throughout the Lenten season, are meant to help us develop and grow in our relationship with God and with our neighbor, to help us live out the two greatest commandments of all: To love God above all things, and to love our neighbor.
We begin Lent begging for "the blessing of forgiveness." God longs for us to return to Him with our whole heart. God desires us to be reconciled. God invites us to pray, "Create in me a clean heart Oh God." Lent is a time for us to reflect on the importance of having an intimate relationship with Our Lord, about engaging in and exercising discipleship from the heart, motivated out of a sincere love for God. Lent is a time to make changes in our lives, to grow in our faith, to grow closer to our God.
Lent is a time in which we can reflect upon where we are, who we are, and where this Lenten journey can take us. The Father who is hidden will see us. And the Father who is hidden will be revealed to us. Amen.


Love is a verb: An Ignatian reflection for Valentine's Day

By Dr. Kathy Coffey-Guenther, Arts '85, Grad '88, '98, senior mission and Ignatian leadership specialist, Marquette University

We tend to think of Valentine's Day as a day to celebrate romantic love with roses and chocolates, cards and dinners out. And while all that consumer-driven celebrating may be nice and enjoyable, love is actually a verb.
Loving well is a series of behaviors and actions that are consistently, intentionally and generously grounded in the well being of the other. These behaviors and actions can be observed and measured, received and appreciated. Read the full reflection.
BONUS:
Valentine's Day is almost here - share your Marquette love story.

Marquette's Living Ignatian in Daily Life Lenten online retreat starts Feb. 29

Join fellow Marquette alumni, parents and friends as you pray through the 40 days of Lent with Jesus and the Marquette community during this online retreat.
You will receive daily readings and reflections, learn about Ignatian spirituality and prayer practices, and walk with Jesus intimately through Jerusalem and beyond. St. Ignatius knew that we need time away in prayer each day to deepen our knowledge, faith and relationship with Christ. Sign up today for this complimentary online retreat facilitated by Dr. Kathy Coffey-Guenther.

Upcoming faith-based events for Marquette alumni and friends

LEADERSHIP
FROM MARQUETTE'S COMM MAGAZINE
A ray of Ronshine: Alumnus returns to Marquette to lead nonprofit newsroom that shines a light on Milwaukee's neighborhoods
Ron Smith, Prof St '05, Grad '09, took the unapologetic curiosity cultivated from childhood in his south side Chicago neighborhood, where he reported for the youth media organization New Expression, to the basement of Johnston Hall, where he was the first student of color to serve as editor of The Marquette Tribune. He reported and edited at several papers in Los Angeles before serving as the deputy managing editor for daily news and production at the Milwaukee Journal Sentinel, for which he worked 14 years. In 2016 Smith moved to Washington, D.C., to be the managing editor for news at USA Today.
He returned to Marquette in February 2019 to lead the Milwaukee Neighborhood News Service, a nonprofit news organization whose mission is to objectively report on Milwaukee's central city neighborhoods and coach student journalists. Read the full story.

Next Step Clinic, recipient of Marquette's first-ever 'President's Challenge' opens
The earlier children are diagnosed with things like autism -- the earlier they can start getting help. But people living in inner cities often face barriers to getting that critical diagnosis. The Next Step Clinic, the recipient of the inaugural Marquette University President's Challenge grant in 2019, hosted its grand opening in Milwaukee on Jan. 8 at its location within the Family Success Center of the Next Door Foundation. Read the full story by Cassidy Williams, Fox6 News.

Major gifts, major momentum
Marquette alumni have committed to significant gifts in the past month, including $6.3 million dedicated to student scholarships in the College of Nursing and a unique $2.5 million partnership with Marquette University High School. Marquette nursing alumna Dorothy Krawczyk gifted $4.7 million to student scholarships through her estate, nursing alumna Alice Stecker contributed $1 million toward scholarship support, and the Helene Fuld Health Trust provided a $675,000 grant to support the College of Nursing's direct entry nursing program. Read the full nursing story.
John Stollenwerk, a 1958 Marquette High alumnus and a 1962 Marquette University alumnus, has established "The Marquette Experience Pathway" along with his wife, JoEllen, a 1966 Marquette University alumna. The Pathway program offers several individual scholarships, enhanced admissions counseling and the opportunity to take Marquette University courses at a significantly reduced cost while in high school. Read the full pathway story.
SERVICE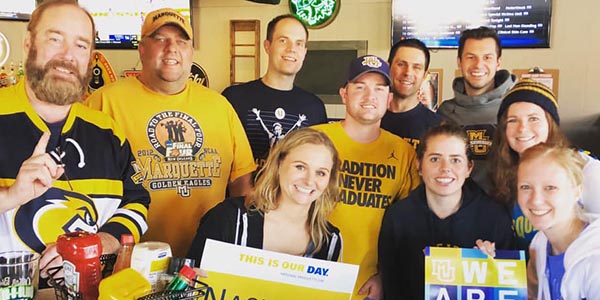 Alumni and friends celebrate National Marquette day in Nashville

Spotlight on: Alumni clubs in Nashville, Minnesota and Philadelphia

We are Marquette! From the Midwest to the South to the East Coast, the Marquette family is everywhere, and we thank our alumni club leaders for keeping friends connected.
MU Club of Nashville
332 Alumni
263 Marquette Parents
Club Leadership: Jaimee Thein, Comm '12
MU Club of Minnesota - Twin Cities
3,642 Alumni
3,420 Marquette Parents
Club Leadership: Sam Kissel, Eng '15
Next up: Forward Marquette: The Marquette Difference -- Men and Women for and with Others
Sunday, March 15
MU Club of Philadelphia
654 Alumni
263 Marquette Parents
Club Leadership: Dorothy (Dottie) M. Arimond, Bus Ad '82

Find a Marquette alumni club in your area.

FROM MARQUETTE MAGAZINE
Serving as promised: Alumnus rediscovers a calling from long ago

In 2008, two days before Jackie Mosier died, she made her husband, John Mosier, Bus Ad '85, promise that when she was gone, he would "tell His story," the story of Christ. "She said in her Texas twang, 'Darlin', go do this. This is what you've been called to do,'" he recalls.
That wasn't the first time someone told him he'd make a good priest. Oddly enough, he'd heard it throughout his 22-year career in biotechnology manufacturing. None of these people knew John had thought about entering the priesthood, so John figured that their comments must have had "little to do with me and more to do with God trying to get my attention." Read the full story.
UPCOMING ALUMNI EVENTS
Marquette CIRCLES -- our premier networking program -- returns this spring to cities across the U.S.!


TUESDAY, FEB. 18: Denver
MU Club of Colorado Marquette Men's Basketball vs. Creighton Game-watching Party
THURSDAY, FEB. 20: Washington, D.C.
Networking Night at the Les Aspin Center for Government
FRIDAY, FEB. 21: Marquette campus
Opus College of Engineering 100 Years of Co-op Celebration
FRIDAY, FEB. 21: Villanova, Penn.
Marquette Women's Basketball Reception and Game
SATURDAY, FEB. 22: Providence, R.I.
Marquette Men's Basketball Blue and Gold Reception and Game
SATURDAY, FEB. 22: New York City
Marquette Men's Basketball Game-watching Party
SUNDAY, FEB. 23: Phoenix
31st Annual Brewers Spring Training Tailgate and Game
SUNDAY, FEB. 23: Washington, D.C.
Marquette Women's Basketball at Georgetown Game
WEDNESDAY, FEB. 26: Naples, Fla.
Ash Wednesday Mass and Reception
WEDNESDAY, FEB. 26: Milwaukee
Marquette Business Administration Alumni Association Men's Basketball Reception and Game
SATURDAY, FEB. 29: Denver
Marquette Men's Basketball Game-watching Party
SATURDAY, FEB. 29: New York City
Marquette Men's Basketball Game-watching Party
MARCH 10 - 14: New York City
Marquette Men's Basketball in the Big East Tournament Fan Events
See more upcoming alumni events.
Alumni Spotlight

Michael Anders, Bus Ad '18, joined the firm Lumsden & McCormick, LLP, as staff accountant. He lives in Orchard Park, N.Y.






Erica N. Menze, Law '12, became a shareholder at the firm Alterman Law Group. She lives in Portland, Ore.






Anne (Gallatin) Nelesen, Comm '97, founded The Therapy SP/OT, a pediatric speech and occupational therapy clinic in St. Paul, Minn.





Tell the Marquette community what you've been up to lately. Send in a class note today!
Publication of the achievements of our alumni does not constitute endorsement by Marquette University.
Guess the year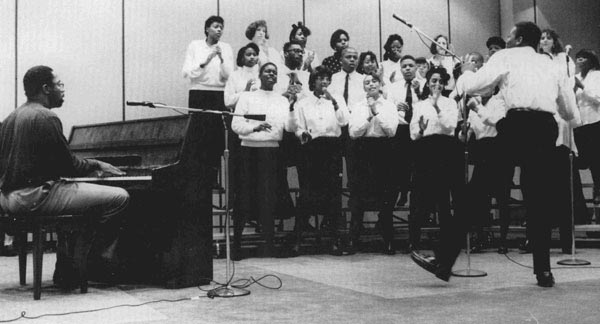 Stay in Touch With Marquette!
Update your contact information on file with the Marquette University Alumni Association
Make sure Marquette has your current name, mailing address and email address so you continue to receive alumni magazines, event invitations, university news and more. Update your contact information.
Follow the Marquette University Alumni Association on social media
Find us on Instagram, Facebook, Twitter and LinkedIn.