FIND YOUR LOCAL GAME-WATCHING PARTY
Ring out ahoya with Marquette alumni, parents and fans on Sunday, Feb. 9 - National Marquette Day! Now's the time to find a game-watching party in your town (or start one of your own) and cheer on Marquette men's basketball as they take on Butler at home in the Fiserv Forum. Suit up in your blue and gold and celebrate Marquette with your fellow alumni, families and friends.
Visit nationalmarquetteday.com to find your local game-watching party and to learn about the Pep Rally and Brunch in Milwaukee prior to the game on Feb. 9.


Marquette Year in Review: 2019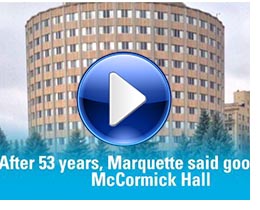 In case you missed it -- check out highlights of 2019 at Marquette University. Marquette's student body is the most diverse in the university's history. Researchers received more than $30 million in external funding. We welcomed new leaders. We said goodbye to McCormick Hall but welcomed new spaces including the Athletic and Human Performance Research Center, the Physician Assistant Studies building, the Neuro Recovery Clinic and the Blessed Virgin Mary Grotto.

PLUS: Marquette's most popular social media posts of 2019: The best of Twitter, Instagram and Facebook.
FROM MARQUETTE MAGAZINE
Look up! Rev. Ryan Duns, S.J., helps distracted students refocus — and be more open to encountering the Divine

A new member of Marquette's faculty, I was struck last year with how tethered students were to their devices. During the interchange of classes, they shamble zombie-like across campus, craving not human flesh, fortunately, but ravenous nonetheless for the next in an endless stream of texts and Instagram pictures. I later reflected, "How can they find God in all things if they never put down their phones?"
So, when I prepared my spring 2019 course, Christian Discipleship, I included a "theology lab." Each session began with 15 minutes of silence. No devices, no earbuds, no talking. At first, it was incredibly awkward. Read the full story.
PLUS: Find out how -- and why -- Father Duns racked up more than 5.6 million views on YouTube.

FAITH
While St. Ignatius struggled to leave behind his privileged life as a noble, he spent many nights in prayer looking in awe and wonder at the expansiveness of the sky. Stirred to profound gratitude, Ignatius came to see the beauty of God's presence in all things.
When we focus on the goodness all around us, we see what God has truly given us. During Mission Week, the Marquette community may listen to inspirational speakers, participate in service, pray, worship, reflect and take time for silence each day. Learn more about Mission Week and see the lineup of events.

Reflecting on our Jesuit mission priorities

By Rev. Frederick Zagone, Chaplain of the Marquette University Alumni Association

At Marquette we are engaged in a process called the "Mission Priority Examen," which has been designed to help each of the Jesuit colleges and universities review its current Jesuit mission priorities. The MPE is structured as a reflective process, and – in the Jesuit tradition of the Magis – results in both confirming our successes and identifying the changes needed to improve mission effectiveness at each institution.
This is an appropriate time to enter such a process. The new year is both a time of reflection as to what has happened in the past as well as an opportunity to look to the future. We are always called to look at all we have done and where we go from here. In each scenario, God asks us to see God in all the events of our lives, to thank God for the gifts and graces we have received, and to pray that God will lead us as we strive to better ourselves, our community, our world, and particularly Marquette University. This is what an Examen is all about. This is what we are as a Catholic and Jesuit University.
To that end, we will hear Dr. Lovell speak in his annual President's Address later this month, quickly followed by Mission Week — this year celebrating the theme of gratitude.
While St. Ignatius struggled to leave behind his privileged life as a noble, he spent many nights in prayer. Stirred to profound gratitude, Ignatius came to see the beauty of God's presence in all things. During Mission Week there are amazing opportunities to listen to inspirational speakers, participate in service, pray, worship, reflect and to take time for silence each day.
Mission Week (Feb. 3-9) concludes with National Marquette Day. In addition to cheering on a victory for Marquette basketball, we cheer for all that God has given us. We are challenged each day to open ourselves up to gratitude and to give gratitude to those around us. When we focus on the goodness all around us, we see what God has truly given us. Open up to gratitude and feel the presence of God. Amen.

PLUS: A reflection on Pope Francis's World Day of Peace Message.


Begin the new year with a renewed commitment to prayer

By Dr. Kathy Coffey-Guenther, Arts '85, Grad '88, '98
Senior Mission and Ignatian Leadership Specialist, Marquette University
Happy 2020, Marquette friends and family!
We hope that you have had blessed and cherished days with loved ones and time for rest and renewal over these past weeks of the Christmas holiday. For most of us, the new year invites and encourages us to actively find new ways to support living our "best selves." Many of these tend to involve diet and exercises for physical health, resolutions for new jobs or learnings of some kind, and promises for healthy and flourishing relationships with ourselves, God and others.
For St. Ignatius, he too knew that we often need a time to reset and orient our sights on deepening our commitments to our interior lives by increasing our willingness to detach from those things and people that interfere with our ability to love God and serve God fully, and by growing in our willingness to travel with Jesus as our guide in loving and serving the greater good in this world.
As we begin to contemplate our goals for this new year, I encourage you to join with St. Ignatius and implement the discipline of prayer, quiet reflection, worshipping in a community, receiving Eucharist, sharing your faith journey in a group or with a spiritual director and reading daily scripture. These are all foundational tools and disciplines used by the spiritual seeker attempting to deepen their spiritual journey. St. Ignatius and many of the Saints and Doctors of the Church have spoken and written about just these practices in their lives.
Living our "best self" spiritually means spending committed time in relationship with God, getting to know and understand and trust God more intimately through Jesus. Just like any other relationship, if we don't spend quality time with someone, we won't develop that healthy growth and intimacy in the relationship that we long for and desire. To enrich our spiritual life and relationship with God and Jesus, we need to spend time in prayer and study and reflection and worship.
For this year, I would encourage you to consider adding the free daily prayer service from jesuitprayer.org to your prayer practices. After registering on the website, each morning (via email or their app) you will receive a scripture reading for the day, a short reflection written by someone involved in Jesuit ministry around the country, and a closing prayer for you to reflect on. You will see that this is an easy, quick, and yet meaningful, way to orient your hearts and minds to following God through Jesus by loving, serving and staying attentive and grateful to the abundance of beauty and grace found in our lives. Even in those moments of our deepest confusions, sorrows and difficulties, we will see God's loving hand reaching out to us again and again, just as we see in scripture, and just as we will read in the various reflections provided each day.
As St. Ignatius knew, physical exercises will never be enough. Come and explore with me the joys of beginning the Spiritual Exercises as well! Wishing you every peace and blessing this new year.

LEADERSHIP

FROM MARQUETTE DISCOVER MAGAZINE
Taking care of business: Students learn what it takes to run a business by starting their own
Kat Djokic is running late, but she has a good excuse. She's coming straight from a meeting with the advisory board for a coffee company called Vida, and she's the company's president and CEO. Djokic is entrenched in every aspect of the business, from cleaning the café to hiring baristas and working with developers on the details for all of Vida's retail locations, which include new cafés opening soon. It's easy to forget that this isn't even Djokic's full-time job — the 21-year-old just started her senior year studying marketing and data analytics at Marquette. Read the full story.
President Lovell discusses how Marquette is innovating and looking ahead

In an interview with The Wheeler Report, Marquette University President Michael R. Lovell explains the headwinds facing higher education, and some of the steps Marquette has taken to address the needs of students and universities going forward. "This change in higher ed, you can see it coming," Lovell said. "For the first time in our history, people started to question whether higher ed was even worth it anymore. That put a tremendous amount of pressure on higher ed to transform itself." Read the full story.
Career advice: Maximize LinkedIn in 2020 with these effective strategies



By Wayne Breitbarth, Grad '86
Wayne Breitbarth, Grad '86, and LinkedIn expert, provides some insights to maximize your job and networking search.
Read the full article from the Marquette Career Experts Pool.
SERVICE


MU Club of Northern California packs baby shower boxes at alumna-founded Community Impact Lab
In December, members of the MU Club of Northern California visited the Community Impact Lab, which was founded by Xouhoa Bowen, Arts '05. Alumni and family members sorted and packed baby shower gift boxes for filled with toys, clothes, books and more for vulnerable pregnant women. Next up for the club: A National Marquette Day game-watching party in San Francisco on Sunday, Feb. 9. Learn more about how to get involved with the MU Club of Northern California.
Spotlight on: Alumni clubs in California

We've got California covered! Check out these stats of the Marquette community in the west coast:
MU Club of San Diego
865 Alumni
288 Marquette Parents
Club Leadership: Emilio Arechaederra, Bus Ad '85, and Lillian Leopold, Jour '84
MU Club of Southern California
1,818 Alumni
617 Marquette Parents
Club Leadership: Carl Mueller, Arts '09, and Rob Christensen, Arts '09
MU Club of Northern California and Sacramento
2,065 Alumni
657 Marquette Parents
Club Leadership: Kate Molitor, Comm '09, Tori Tanaka, Bus Ad '14, and Sophie Zeck, Arts '15
Fun fact: The state of California has the third-highest Marquette alumni population in the nation with a total of 5,909!

UPCOMING ALUMNI EVENTS
Alumni Spotlight

Sondra Norder, Law '10, president and CEO of St. Paul Elder Services, Inc., has advanced to Fellow with the American College of Healthcare Executives. The credential formally recognizes a health care leader's competency, ethical decision making, and commitment to healthcare delivery excellence. She lives in Appleton, Wis.




John Galvin, Arts '82, joined the St. Louis office of Thompson Coburn LLP. John was previously the founding partner of the firm formerly known as Fox Galvin LLC. He lives in St. Louis.





Julie (Hageman) Wells, Comm '04, and Brian Wells welcomed son Bennett Stafford on August 6, 2019. He joins sister Ada Emaline. The family lives in Sherman Oaks, Calif.




Tell the Marquette community what you've been up to lately. Send in a class note today!
Publication of the achievements of our alumni does not constitute endorsement by Marquette University.
Guess the year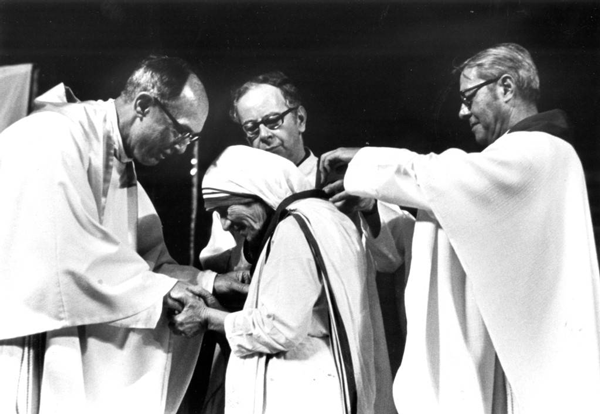 Stay in Touch With Marquette!
Update your contact information on file with the Marquette University Alumni Association
Make sure Marquette has your current name, mailing address and email address so you continue to receive alumni magazines, event invitations, university news and more. Update your contact information.
Follow the Marquette University Alumni Association on social media
Find us on Instagram, Facebook, Twitter and LinkedIn.