It's official: The demolition of McCormick Hall is complete. Watch a video chronicling McCormick's final months on campus.
For a dose of nostalgia, check out an excerpt from a new autobiography by sportswriter Steve Rushin, Jour '88, where he remembers move-in day on campus in 1984. Read the excerpt, which captures Rushin's first impressions of moving in to McCormick Hall and meeting his freshman roommate.
PLUS: Don't miss your chance to get an official McCormick Hall commemorative T-shirt with your gift of $20 or more to the Marquette Backpack Program.

Marquette-sponsored Next Step Clinic raises autism awareness
The Next Step Clinic, this year's recipient of the President's Challenge grant, recently opened. Located at Next Door Foundation in Milwaukee's 30th Street corridor, the clinic addresses the mental health and developmental needs of Milwaukee's underserved children and families. Already, it's received recognition for raising critical awareness about autism and empowering the autism community. Developed in partnership with the Johnson Controls Foundation, the President's Challenge awards a $250,000, two-year grant to a project that seeks to change the trajectory of lives in the Milwaukee community. Read the full story from the Milwaukee Journal Sentinel.
Student Kelsey Brown wraps up Law School while continuing active pro bono service work

Kelsey Brown is a third-year Marquette law student who has been actively involved in pro bono service since October of her first year of law school. She's worked with the House of Peace, United Community Center, Milwaukee Justice Center and the Veteran's Service Office. She says her favorite thing about volunteering is that, "everyone feels good — the client feels good because he or she received legal advice; and the volunteer law student/volunteer lawyer feel good because they helped a client understand the Wisconsin legal system." See Kelsey's pro bono work in action on Marquette Law School's Instagram.
Men's Basketball senior guard Markus Howard reflects on his career at Marquette and making an impact on and off the court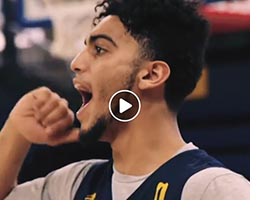 Last week, senior guard Markus Howard surpassed Jerel McNeal to hold the all-time scoring record title for Marquette Men's Basketball -- but at the end of the day, he'd rather be remembered for his character and his work as an advocate for mental health. Watch Markus reflect on his Marquette career and read more about his record-breaking game.

FAITH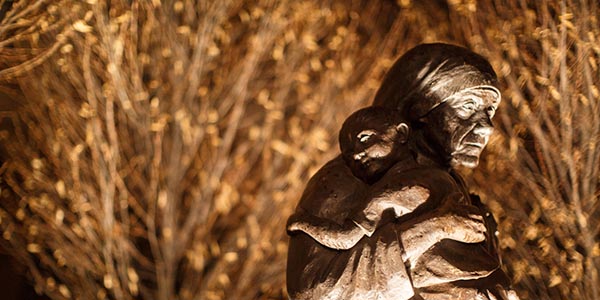 November reflection: Our community of saints

By Kathy Coffey-Guenther, Ph.D., Arts '85, Grad '88, '98, Senior Mission and Ignatian Leadership Specialist, Marquette University

I always love these early November days. Yes, the weather is changing, and the dropping of our beautiful leaves lends a stark landscape beyond my window. But, as a Catholic Christian, I love November because we start the month in prayer, remembrance and gratitude for the communion of Saints, these holy people of God, who are both known and unknown, through the celebration of All Saints Day.
I love knowing that there is a "communion," or a community, of saints operative in my life, these holy followers of God, who have come before me and who accompany me today, who intercede on my behalf and who are loving and guiding and calling me each day. Read the full reflection.
PLUS: Sign up today to participate in our virtual Ignatian Advent Retreat in Daily Life, held weekly via email starting Dec. 1.

Marquette's St. Joan of Arc Chapel named a must-see Milwaukee landmark by the New York Times

"Milwaukee's done a decent job of preserving its old structures. But its most ancient building, by far, is this medieval oddity, slipped snugly into the Marquette University campus. There's a long story behind the tiny church's journey in 1926 from the Rhone Valley to the Long Island estate of a Joan of Arc-fixated railroad heiress to Marquette in 1966." Read the full story from the New York Times.
Upcoming faith-based events for alumni

Denver Jesuit Alumni Network: Ignatian Inspirations - How Your Volunteerism Can Impact Local Nonprofits
THURSDAY, NOV. 14
Denver
REGISTER TODAY
Living Ignatian: Counting our Blessings Advent Retreat
THURSDAY, NOV. 21
Barrington, Ill.
REGISTER TODAY
Marquette Mass when Men's Basketball competes in the ESPN Orlando Invitational Tournament
SUNDAY, DEC. 1
Orlando, Fla.
REGISTER TODAY
MU Club of New York, New Jersey and Connecticut Advent Reflection
WEDNESDAY, DEC. 4
New York
REGISTER TODAY
Association of Marquette University Women Advent Reflection Luncheon
THURSDAY, DEC. 12
Milwaukee
REGISTER TODAY


LEADERSHIP

The Fearless Forty

50 years ago, 40 Marquette students courageously stood tall and unknowingly started a movement
In 1969, when Dr. Arnold Mitchem was asked to lead a new program at Marquette to provide outreach and student services for people from disadvantaged backgrounds, Mitchem was skeptical. In a turbulent time in America, Mitchem considered the program to be "a fool's errand." Still, he agreed to give it a try for five semesters, and the Educational Opportunity Program began with a cohort of 40 students, whose grades, determination and grit made it clear that they belonged on Marquette's campus. Today, the EOP serves more than 1,000 students annually and has become a national model. Read more of Dr. Mitchem's remembrances of the start of the EOP.
Counseling professor Dr. Lee Za Ong awarded $750,000 grant to expand mental health education program

Ong's project, with funds from the grant over a five-year period, will recruit and enroll at least 25 master's degree scholars from diverse backgrounds and provide high-quality instruction to the scholars in clinical classes. The project coincides with the college's new master's-level Clinical Mental Health Counseling-Clinical Rehabilitation Counseling Specialization program. The program aims to train scholars in rehabilitation counseling, with a specialty in mental health, to work with individuals with disabilities. Read more about Dr. Ong and how the grant will better prepare counselors for post-graduation jobs.
Director of Athletics Bill Scholl comments on the NCAA's recent decision about student-athletes

Bill Scholl, vice president and director of athletics, said he supports the NCAA's decision to allow student athletes to profit from their names. "The announcement regarding the ability for student-athletes to benefit from their name, image and likeness is, as referenced by the working group [that made the recommendation], a 'natural extension of the numerous steps' we have taken as an industry in recent years to continue to deepen our support of student-athletes," Scholl said. Watch the full story from WTMJ-TV (NBC 4).



Career advice: Learning how to leave a legacy
By Tim Cigelske, Comm '04, Grad '18

One of my favorite Marquette professors, Dr. Gary Meyer, once told me a story about a backpacking journey he made after college. These travels brought him to Israel to work in a peach tree orchard. There he met a man with a big, bushy beard that struck Dr. Meyer as the image of the prophet Moses. One day, the bearded man pulled Meyer aside to impart life advice. Every person, he said, should do three things before they die: Plant a tree, write a book, make a baby. In other words, create.
Read the full article from the Marquette Career Experts Pool.
SERVICE


Marquette, UWM and MATC students help area seniors as part of annual 'Make a Difference Day'
More than 800 student volunteers joined together on Nov. 9, to help older adults across Milwaukee County get ready for Wisconsin's winter. The event, cohosted by the three institutions, is part of "Make a Difference Day," an annual nationwide event in which organizations join forces to elevate community service. This year, student volunteers visited more than 150 homes throughout the county to assist older adults with raking leaves, cleaning yards and providing a friendly visitor, ensuring they are able to stay safe, warm and independent in their homes this winter. Read the full story.
Project Return takes Marquette students into different worlds, just blocks away
For nearly 40 years, Marquette University has been a part of Project Return, a service-learning program for students that helps newly released inmates return successfully to their communities. "Students are being exposed to things they could just never experience in a classroom," said Dr. Ed de St. Aubin, associate professor of psychology in the Klingler College of Arts and Sciences and internship director for Project Return. Read the full story from the Milwaukee Journal Sentinel.
UPCOMING ALUMNI EVENTS
Alumni Spotlight

Katie Lyons, H Sci '10, Grad '12, and Jordan Lentz wed in Columbus, Ohio, on Aug. 10, 2019.

Nicolas Celozzi, Comm '94, is The CEO of Monaco Films and producer of over 20 films including Kickboxer: Vengeance. He lives in Thousand Oaks, Calif.






Dottie Arimond, Bus Ad '82, was inducted into Archbishop John Carroll's High School Hall of Fame on Oct. 26, 2019. She lives in Wayne, Penn.






Tell the Marquette community what you've been up to lately. Send in a class note today!
Publication of the achievements of our alumni does not constitute endorsement by Marquette University.
Guess the year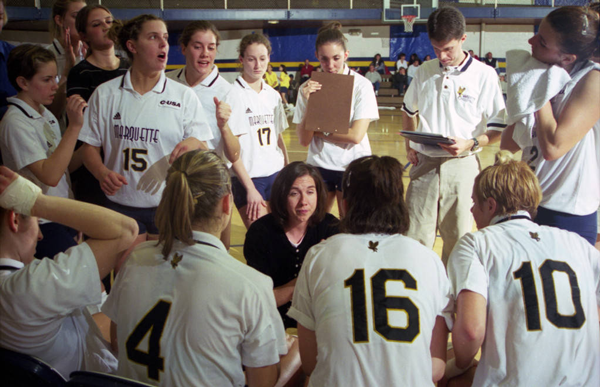 Women's Volleyball Head Coach Laura Farina talks to the team during a time out.
a. 2000
b. 2003
c. 2006
d. 2010
Answer: a. 2000

DID YOU KNOW? Your Marquette Women's Volleyball team is tied for first place in the BIG EAST with four regular season games remaining after sweeping DePaul last weekend. The Golden Eagles return home this weekend to host Georgetown and Villanova. Read more about Marquette Women's Volleyball.

Stay in Touch With Marquette!
Update your contact information on file with the Marquette University Alumni Association
Make sure Marquette has your current name, mailing address and email address so you continue to receive alumni magazines, event invitations, university news and more. Update your contact information.
Follow the Marquette University Alumni Association on social media
Find us on Instagram, Facebook, Twitter and LinkedIn.