EXCELLENCE
Alumni couple commits more than $1 million toward Catholic faith formation for Marquette students

Marquette University's Catholic and Jesuit identity will be enriched for generations to come thanks to the vision and generosity of alumni Nancy and Bill Stemper. The Stempers have committed more than $1 million to fund the Bill and Nancy Stemper Endowment for Excellence in Catholic Faith Formation, which will expand programming and services to deepen Catholic, Jesuit faith development among Marquette students.
"With this gift, Nancy and Bill are profoundly infusing campus faith formation throughout Marquette," said President Michael R. Lovell. Learn more about the Stempers and the ways their gift will impact Marquette students.


In August, nearly 4,000 students moved into Marquette's nine residence halls. Move-in day included a formal blessing for new students and their families by Rev. Michael Maher, S.J., residence minister at The Commons and an associate professor of history in the Klingler College of Arts and Sciences. See a slideshow of move-in day photos and share your favorite campus study spot with the freshman class.
DID YOU KNOW? Approximately 20 percent of Marquette students are first generation. Marquette offers resources and a supportive community to those who are new to navigating a four-year college education program. Learn more about Marquette's first-generation college student program.
Marquette Reunion + Homecoming is October 3 - 6


This fall, Marquette alumni, students, parents and friends will converge on campus for a weekend of fun during Reunion + Homecoming 2019. We'll welcome those with undergraduate class years ending in "4" or "9," including the Golden Jubilee Class of 1969 celebrating their 50th reunion. With class parties; bed races; the block party; and concert featuring Alessia Cara and lovelytheband; Masses; and so much more, Reunion + Homecoming will celebrate Marquette's history and old friendships while exploring innovations in academics and research looking to the future.
Explore Reunion + Homecoming programs and register online today!
Thank you to our Reunion + Homecoming 2019 sponsors.
Marquette class provides in-depth brain dissection opportunity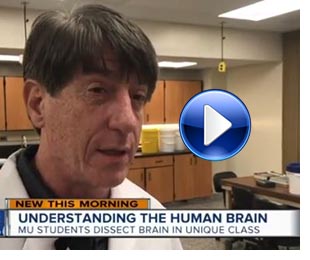 A three-day class at Marquette gave students a hands-on chance to better understand the human brain. The 97 people who attended participated in the blunt dissection of a human brain.
The class is now in its 22nd year and has "really found a niche with people who are neuropsychologists, educators, physicians and others who want to understand the brain and the three dimensions of it in a special way," said Dr. William Cullinan, dean of the College of Health Sciences and Director of the Integrative Neuroscience Research Center. Get the full story from WTMJ-TV Milwaukee.
FAITH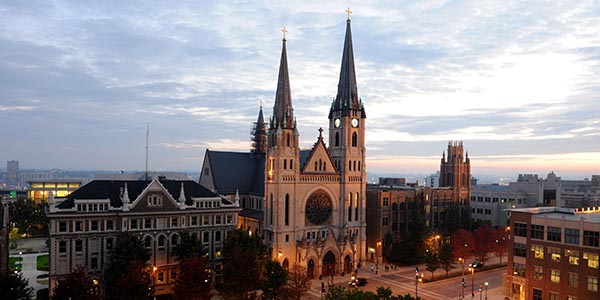 Church of the Gesu celebrates its 125th anniversary this year. Explore the genesis of the building, its organ and its roots at Marquette University.
September reflection: Welcome home to Marquette

By Rev. Frederick Zagone, Acting Vice President of Mission and Ministry and Chaplain of the Marquette University Alumni Association

We often talk about Marquette as being a welcoming place. Last month we welcomed over 2,000 new students. The flaming red maple trees along Wisconsin Avenue are beginning to turn the color of their name. Soon we will welcome alumni and families to campus for Family Weekend and Reunion + Homecoming.
Marquette may be home for the students for just four years, but for our alumni, Marquette is home forever. There is something special about coming home, whether it be the home where you live, the house where you were raised, or your residence hall when you lived on campus. (Okay, when you return this fall there will be only a skeleton of McCormick Hall remaining!)
One of my favorite Reunion events is joining the 50-year class as they come together to meet, reminisce and celebrate. Hard to believe it has been 50 years since 1969. What a year it was! Men on the moon, Woodstock, Golda Meir of Milwaukee named prime minister of Israel, the Stonewall riots, Sesame Street premieres. The list goes on and on. Fast forward 50 years and Alessia Cara and lovelytheband will have us rocking Fiserv Forum for the Reunion + Homecoming concert. Come back and celebrate whether it is your 50th reunion, your 5th, or somewhere in between.
Homecoming and Reunion are an occasion when we are reminded of the many gift and graces God has given the Marquette community. We ask God to continue sending hope to us and blessings on Marquette that future generations will have the opportunities we have had; the education we've received; the recognition of God's presence that we share. Always providing us with a place where we can come home. Amen.

From Marquette Campus Ministry: Which hymns do you associate with the St. Joan of Arc Chapel?

"Do not let your hearts be troubled. Have faith in God and faith in me. I will go forth to prepare a place for you, that where I am, you may also be." See which hymns swim through the heads of alumni and students when they take in the sights and sounds of St. Joan of Arc Chapel, and lend your own to the conversation. Join the conversation on Facebook.
LEADERSHIP

Marquette Magazine: The Day the Music Lived

By Jennifer Walter, Comm '19

After Jennifer Walter and her sister, Nang, lost their father suddenly, they started playing his favorite songs on Marquette Radio. The show they created, Dad Rock Radio, took on a life - and a healing power - of its own.
Read the full story from the Spring-Summer 2019 issue of Marquette Magazine.
Marquette VP for Mission and Ministry receives Jesuit organization's highest honor

Rev. Frederick Zagone, S.J., acting vice president for mission and ministry at Marquette University, is the 2019 recipient of the Rev. J. Barry McGannon, S.J., Award, presented by the Conference of Jesuit Advancement Administrators.
"Father Zagone's commitment to Catholic, Jesuit ministry in higher education is a shining example to all who live a life of faith and service," said Marquette President Michael R. Lovell. "The Marquette University community is proud to call him a leader and friend — he truly deserves this honor."
Read more about Rev. Zagone's career and contributions to Marquette.
Marquette K9 cop, Nattie, helps campus police educate students about safety initiatives

Rather than participating in any direct law enforcement, Nattie is more of an ambassador for the Marquette University Police Department, which she officially joined two years ago. She was rescued from Oklahoma City and brought to Milwaukee by the Wisconsin Humane Society.
See Nattie in action in a video from WISN-12 and Yahoo!.

Career advice: Three ways to build confidence
By Monica Oliver, Sp '81
Leadership Consultant and Certified Executive Coach, Monica Oliver Consulting
Member of the Marquette University Alumni Association National Board of Directors.
Whether you're starting your career or are a seasoned professional, consider these practical tips to bolster your confidence.
Read the full article from the Marquette Career Experts Pool.
SERVICE


Burke Foundation commits $7 million to Marquette to extend two service-driven scholarship programs

Marquette received a $7 million commitment from the Burke Foundation in August to continue two longstanding, highly regarded scholarship programs founded by Richard A. Burke: the Trinity Fellows program for graduate students and the Burke Scholars program for undergraduates. Both programs incorporate service to others, which is a key component of Jesuit higher education. Learn more about service-driven scholarship programs at Marquette.
Marquette students help Florida homeowner with Hurricane Michael damage, repairs

It's been more than 10 months since Hurricane Michael slammed into North Florida and South Georgia and many victims are still working to clean up and recover from the storm. One Marianna [Fla.] woman who suffered damage to her house was not physically able to do much; the damage from Hurricane Michael remained, her yard continued to grow with parts of the grass up to five feet tall.
That all changed this August because of a group of 14 Marquette students. Read the full story from WCTV.
UPCOMING ALUMNI EVENTS


Oct. 3-6, 2019
Reunion + Homecoming: See full lineup of events
See more upcoming alumni events.
Alumni Spotlight

Tommy Walls, Arts '14, was named executive director at Communities in Schools in High Point, N.C.

Phil Ventura, Comm '04, was promoted to lieutenant colonel in the U.S. Air Force and selected to command American Forces Network-Pacific, headquartered in Tokyo.






Katie Michalkiewicz Wagner, Comm '06, and Mike Wagner welcomed son Henry Patrick on May 16, He joins brother Charlie. The family lives in McFarland, Wis.
Tell the Marquette community what you've been up to lately. Send in a class note today!
Publication of the achievements of our alumni does not constitute endorsement by Marquette University.
Guess the year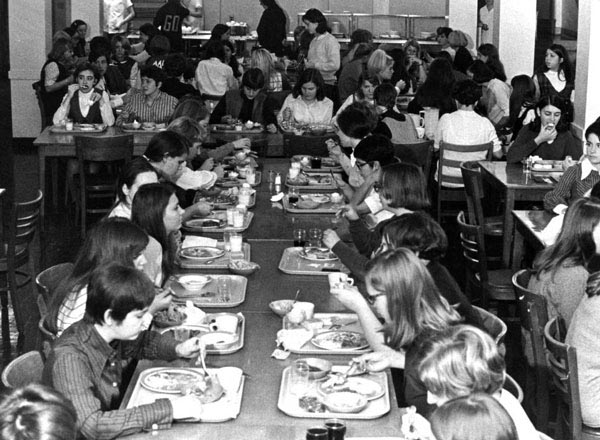 A group of students gather for a meal in a crowded campus dining hall.
a. 1970
b. 1973
c. 1977
d. 1979
ANSWER: a. 1970

DID YOU KNOW? Marquette's Backpack Program is a free and confidential service that provides groceries to any student who is having difficulty accessing affordable, nutritious food and other household items. Learn more or make a gift to the Backpack Program today.
Stay in Touch With Marquette!
Update your contact information on file with the Marquette University Alumni Association
Make sure Marquette has your current name, mailing address and email address so you continue to receive alumni magazines, event invitations, university news and more. Update your contact information.
Follow the Marquette University Alumni Association on social media
Find us on Instagram, Facebook, Twitter and LinkedIn.